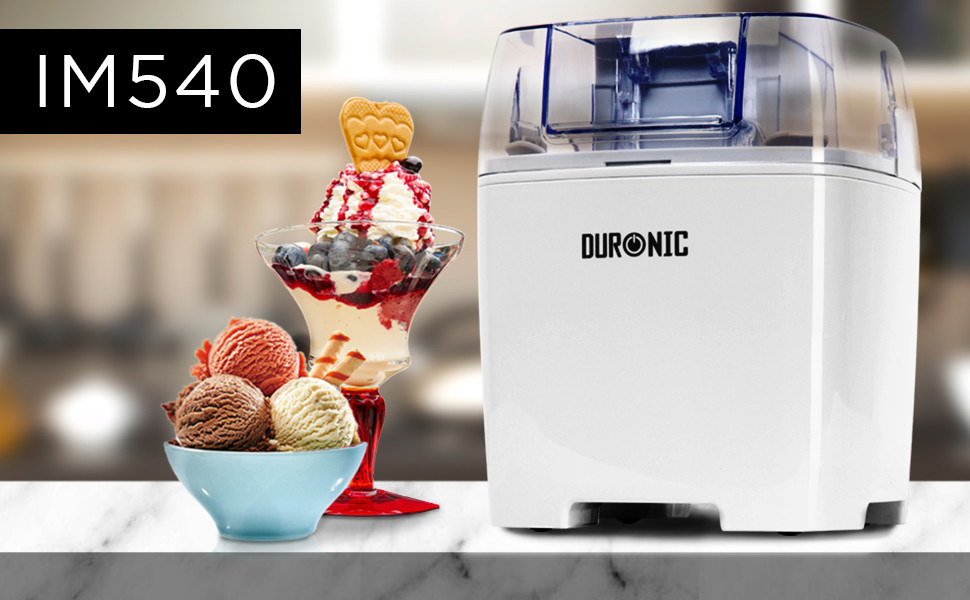 Duronic Ice Cream Maker IM540
Freshly churned homemade ice cream is just minutes away with the Duronic IM540. Designed with simplicity in mind, this machine will allow you to make homemade frozen desserts quickly and easily with almost no effort required. The most preparation needed is to pop the ice cream bowl in the freezer and prepare any fruit or ingredients you might want to add. Leave the rest of the work to the machine, as it will make a beautifully creamy dessert in less than 30 minutes.
The advantages for making frozen desserts at home is that it can be healthier, tastier and it can cost less too. However, one of the best benefits of making homemade ice cream is that you are in control of what ingredients are added; this means no nasty artificial preservatives, colourings, flavourings or emulsifiers are going in. Instead you get to choose exactly what goes in and how much. Completely customise your ice cream recipe by adding together ingredients in different combinations to find a unique flavour or recreate your all-time favourite. Try adding chocolate, caramel, mint, glacier cherries, fresh fruit, raisins, coffee, spices or vanilla extract. The possibilities are endless; you can mix together a combination or just have one flavour by itself; it is totally up to you.
If you prefer to use a dairy-free alternative like soy, coconut or almond milk, you can also do this to create a lighter dessert that is also suitable for vegans. For a more luxurious feel, use cream or gold-top milk to give your ice cream that extra silky creamy texture.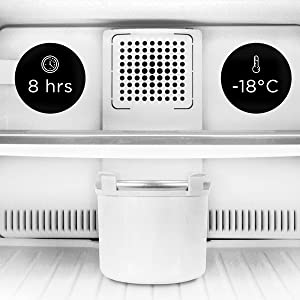 Large 1.5 Litre Mixing Bowl
It is recommended that the bowl is put in the freezer at least 8 hours before use. We recommend finding a little space in your freezer to store the bowl permanently, this way it is always ready to use when you fancy making impromptu ice cream.
The IM540 comes with 1 bowl, however we also sell spare bowls separately.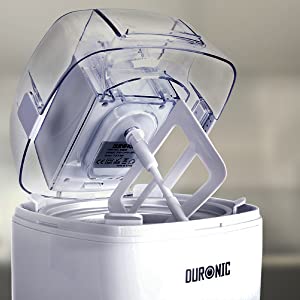 Top-Down Motor with Removable Paddle
This machine has a top-down motor which controls the paddle movement and speed.
As the paddle to churns away at the whole ice cream mixture it scoops it away from the sides of the bowl at the same time ensuring it doesn't stick and creates an even consistency.
Easy to Assemble and Clean
The IM540 ice cream maker is easy to assemble and dis-assemble for cleaning and storage.
The paddle and bowl are removable for washing with warm water and soap.
The transparent lid also comes away but should only be cleaned by being wiped with a damp cloth.
Create your Own Recipe
Choose what ingredients you would like to add and slowly add to the mixture while the machine is stiring it.
This ensures that nothing sticks to the sides and that the ingredients get mixed in well throughout the whole ice cream.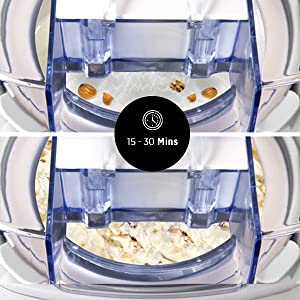 15-30 Minutes for Perfect Ice Cream
In less than 30 minutes you will see your ingredients mix together and turn into a wonderfully creamy ice cream.
Experiment at home with a whole range of ingredients to see which ones work for you and which combinations are the tastiest.

Duronic Ice Cream Maker IM540 | Create Homemade Frozen Desserts like Gelato, Sorbet and Frozen Yogurt | 540W | 1.5L Freezing Bowl | Make Delicious Creamy Ice Cream in Your Own Kitchen in 30 Minutes
Product Code: DUROICE540
Availability: In Stock
Tags: Duronic Ice Cream Maker IM540 | Create Homemade Frozen Desserts like Gelato, Sorbet and Frozen Yogurt | 540W | 1.5L Freezing Bowl | Make Delicious Creamy Ice Cream in Your Own Kitchen in 30 Minutes